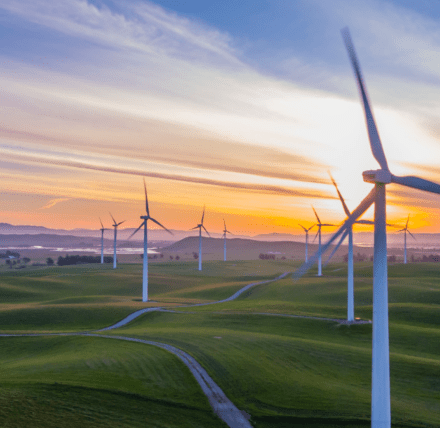 Energy & natural resources
Harnessing the full power of Scotland's resources
Scotland's energy & natural resources sector plays an unparalleled role in the country's economy and future prospects – and we are very much part of the efforts to harness the abundance of energy that makes the country rich in energy potential.
Our award-winning energy & natural resources group is a multi-disciplinary team of highly-experienced lawyers who provide innovative legal advice on every aspect of the energy supply chain, from planning permission and property advice for wind and minerals projects, to advice on securing funding, negotiating community benefits and taking advantage of incentives.
We specialise in renewable energy projects and minerals, advising developers, landowners, planning authorities and funders in projects big and small. From some of Europe's largest onshore and offshore windfarms, to community projects of all types we use our experience and knowledge of the industry to provide pragmatic commercial advice to all of our clients.
Climate change, sustainability, natural capital
At Harper Macleod, we put Climate Change at the heart of our practice. Our specialists throughout the firm advise organisations and businesses throughout Scotland and beyond on issues which affect and are affected by the need to make significant changes to the way we all do things.
Testimonials
"The Harper Macleod team worked without hesitation to meet our tight timeframes and provided valuable Scots law input in relation to our legal due diligence of a complex asset. The process was run very efficiently and the advice was sensible and commercial. We are very extremely grateful to David Bone's Energy Team and Stephen Chan's Corporate Team"
"Harper Macleod LLP advises both funders and borrowers on the financing and refinancing of a range of renewable energy projects. It often acts as local counsel to a number of English firms on cross-border matters. Well known for its property and planning expertise, the firm also provides advice around construction, grid connection agreements and regulatory matters."
"Offers expertise ranging from wind and hydro matters to solar projects. Handles a range of transactional matters as well as project financings. Acts for developers and funders across the industry, particularly in relation to wind farm developments, and is a popular choice for landowner clients. David Bone has extensive expertise acting for developers and landowners on renewable energy projects. Clients note "David is very commercial and practical in his approach to identifying and mitigating risks for the client."