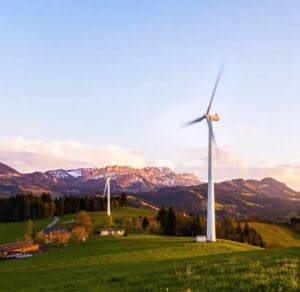 Renewable energy solicitors
Our award-winning renewable energy team is one of the largest in Scotland, providing advice on all types of renewable energy projects, including onshore wind, hydro, marine and off-shore wind, solar and renewable heat.
Leading the way for renewable energy in Scotland
With a specialist team completely dedicated to and focused on renewable energy, we offer a depth of experience and knowledge which sets us apart and ensures you have the support you require.
The team advises on projects of all sizes, from advising on smaller projects for individuals, single turbine developers, estates and community groups to acting on behalf of utilities and major independents on large-scale onshore and offshore projects.
We act for clients on every aspect of a renewable energy project, from planning, property and construction, negotiating through agricultural or crofting rights, to advice on securing funding, taking advantage of incentives and grid and power purchase agreements.
We have considerable experience acting for developers, landowners, investors, funders, planning authorities, community groups, crofters and sellers so whatever your interest is in a renewable energy project, we are here to help.
Our solicitors have advised on completed renewable energy projects totalling more than 4GW of installed capacity – around one-third of the total renewable energy development installed in Scotland.
Meet the team
Headed by David Bone, one of Scotland's leading renewables solicitors, our team has been advising on renewable energy projects for more than 20 years, helping Scotland to meet its ambitious renewable energy targets in the process.
Our services
Our advice spans the full range of legal assistance required for every aspect of a renewable energy project, including:
Energy from waste / anaerobic digestion
Overview
nergy from waste is about taking waste and turning it into a useable form of energy, including electricity, heat and transport fuels. This is clearly better in the fight against climate change than leaving it as landfill, but it is key that the residual waste being used has the right renewable content and is matched with plant that is efficient enough at turning the waste to energy.
Anaerobic Digestion is a process where organic matter, such as animal manure and food waste, is broken down by bacteria via a reactor to produce biogas and digestate. The energy in the biogas can then be used to produce heat and electricity.
The number of these plants is increasing and we have been involved in a number of projects, including for investors such as JLEN and Octopus.
Community power
Overview
We are one of Scotland's leading legal advisers to community groups in relation to renewable energy projects. Our firm has extensive specialist experience and knowledge across the full spectrum of requirements and all stages of advising on a renewables project on behalf of a community group, whether the project is a stand-alone community owned project or a shared ownership project.
We have acted for more than 30 community groups in helping them through this process and in Calum MacLeod we have one of the leading lawyers in this area. We also act for Community Energy Scotland and Local Energy Scotland so understand the various grant and other loan schemes available to assist community bodies.
Hydropower
Overview
Hydropower is a method of power generation with historic origins and which played a vital role over the last century in connecting vast swathes of rural Scotland to the power grid and all by making use of two resources which are abundant in Scotland, water and mountains. Advances in technology have allowed hydropower projects to be developed that produce a steady and reliable power for the long term.
We have substantial experience in dealing with hydropower projects both large scale hydro-electric generating stations as well as micro-hydro projects. We have been involved with over 100 large and small scale hydropower projects acting on behalf of Scotland's largest landowner, Forestry and Land Scotland.
Our legal experts have considerable experience in advising on all real estate matters including agreements that are required over the watercourse and also the catchment area to ensure long term supply of water to the hydropower project. Our legal experts also advise on all funding aspects, as well as dealing with environmental and planning considerations and the connection of hydropower projects to the grid.
Onshore wind
Overview
Our team members have been working on onshore wind since the first commercial wind farms were developed in Scotland and we have been involved for developers, landowners, planning authorities, funders and investors in approximately one third in mega watts of all operational wind farms.
For developers, we have worked on some of the largest wind farms including those at Clyde, Crystal Rig, Rothes and Windy Standard.
We also act for landowners including acting for Forestry Commission Scotland / Forestry and Land Scotland on the roll-out of large parts of the National Forest Estate for wind farms including the operating wind farms at Whitelee, Harestanes, Arecleoch, and Beinn an Tuirc.
For investors, funders and developer clients obtaining funding we have recently been involved in the acquisition and disposal of the Afton wind farm, the acquisition of the Solwaybank wind farm, the sale of the Andershaw wind farm and the funding of the Brockloch Rig and Crystal Rig wind farms and the purchase of Cumberhead Wind Farm.
We also assist clients on smaller single turbine developments and acquisitions. Our services include planning advice; all aspect of land work from exclusivities, options and leases to title examination work, production of certificates of title and negotiating rights with crofters or agricultural tenants; construction work; funding advice; advice on grid agreements and power purchase agreements.
Offshore wind
Overview
As Scotland's offshore wind market starts to gather pace through a formal Scotwind leasing round, we are well placed to meet your needs.
Our team have already been involved in supply chain work for the Beatrice offshore wind farm through our work at Wick Harbour; accommodating the onshore substations and cables for the proposed Neart na Gaoithe wind farm through our work for the adjoining developers; acquiring a substantial stake in Beatrice for an investor and advising the decommissioning authority on the form of agreements required to ensure that sufficient funding is in place to decommission offshore wind farms at the end of their lifespan.
Solar PV
Overview
Solar energy is one of the main driving forces behind the growth of the global renewable energy transformation and has grown hugely in the UK in recent years. As the cost of photovoltaic (PV) technology decreases and also becomes more efficient, we have seen an increase in the opportunities that are emerging from this fast growing sector.
We have a wide range of experience in a variety of solar projects including commercial scale ground mounted solar farms as well as domestic and commercial rooftop installations along with projects that look to combine solar with other renewable technologies such as battery storage.
Our legal experts can provide advice throughout the project lifecycle from planning, real estate matters through to construction, financing and grid connection.
We also have considerable experience in both the acquisition and sale of 'shovel ready' and operational solar assets.
Marine energy
Overview
In addition to our work in Offshore wind, we have been active in the Wave and Tidal sectors, particularly off the north coast of Scotland in the Pentland Firth. We have been involved in taking prospective wave developers through various stages of funding and more recently have been involved in funding tidal development.
As one of the panel solicitors for the European Marine Energy Centre we also have an insight into the work being done to assist marine developers test and develop their prototype and full-scale devices.
This work also ties into our considerable experience in relation to Ports and Harbours, where we have advised Wick Harbour Authority and Ardersier Port (Scotland) Limited on development of their facilities to meet the requirements of offshore wind and marine developers
Energy storage
Overview
As generation from renewable energy sources continues to grow, energy storage will have a vital role in the distribution of energy across electricity grids and to a more de-centralised and smart energy system. We have assisted our clients with some of the largest standalone battery storage projects in the UK as well as pumped-hydro storage schemes which have the potential to play an increasingly important role in a more flexible energy system.
Our legal experts can advise on a full range of services from planning consents, all real estate matters including land acquisition, leasing and securing necessary rights for grid connection routes through to construction, financing and dealing with grid connections for all types of energy storage projects.
Solar power
Overview
We advised on Europe's largest crowd-funded solar power project, which will save tenants of a housing associations hundreds of pounds each in annual bills.
We have advised on the provision of solar panels to several major housing associations and their funders, including Knowes and Berwickshire housing associations, ranging from 200 properties to 750 properties. We dealt with all of the property documentation, procurement aspects and all third party consents.
We also act for Lightsource BP, formerly Lightsource Renewable Energy Limited, Europe's largest solar developer, on a wide variety of matters, including an Option Agreement and Lease for the 5MW solar farm at Easter Balbeggie, Fife and the on due diligence for the acquisition of the 5MW solar farm at Pressock in Forfar.
Marine
Overview
We advised ethical crowd funding platform, Abundance, on the launch of Orbital Marine Power (Orkney) plc's campaign to raise £7,000,000 to fund the construction of a 2MW tidal stream turbine.
We acted for Local Energy Scotland on the transfer and amendment of its grant and loan funding arrangements in relation to the "Surf 'n' Turf" renewable energy project in Orkney, which was required as part of the wider transfer of the project from Community Energy Scotland Limited to The European Marine Energy Centre Limited
We represented Clydesdale Bank in the development funding of the new St Ola Pier development at Scrabster Harbour
We have acted for a Norwegian marine sector operator over several years in respect of a wide range of legal requirements.
Recent work has included advising them upon their involvement in, and coordination of, a multi-party EU funded technology development project, attending to disputes exasperated by consequences of the Covid-19 pandemic relating to joint venture marine infrastructure and technology projects, attending to issues with their US subsidiaries, dealing with US and other foreign distribution arrangements, and the licensing and development of technology from a Belgium based operator
Community power
Overview
Acting for the community group, the Fair Isle Electricity Company Limited in the Fair Isle Generation and Storage Project. This was a project that brought 24 hour electricity for the first time to Fair Isle, the most geographically remote inhabited island in the United Kingdom.
The project involved the erection of a three turbine scheme and a PV solar panel array to generate electricity, together with the creation of a local electricity grid.
We advised on all property arrangements, the project documentation, electricity supply arrangements with the land owner, the corporate structure and regulatory issues. We also advised on the arrangements with funders. The project demonstrated our experience and knowledge in the community energy sector and was successfully commissioned in October 2018.
Advising Local Energy Scotland on the application of the Scottish Government's Good Practice Principles for Shared Ownership of Onshore Renewable Energy Development which included advice on structures for community groups.
We acted for Applecross Community Company in the development of their community-owned hydro scheme which has now been commissioned. We advised them on funding arrangements and a community share offer to raise funds.
We advised them on the use of a Community Benefit Society in order to finance the successful community owned scheme. We were involved in advising on all legal aspects of the project including finance agreements, project and construction documentation, and all property aspects.
Ports and harbours
Overview
We advised Ardersier Port (Scotland) Limited on the purchase of the former McDermotts fabrication yard in Ardersier.
The move will see the new owners, a privately owned business registered in Scotland owned by Steve Regan and Tony O'Sullivan, transform the site into a multi-disciplinary facility with the purpose of supporting the United Kingdom's Energy Transition plans.
We acted for Wick Harbour Authority when in 2017 it granted a lease and other rights to Beatrice Offshore Windarm in respect of the use of parts of the harbour in connection with its operations base for their offshore project, including the provision of harbour services
Onshore wind
Overview
We acted for The Renewables Infrastructure Group Limited in its acquisition of the proposed 30MW Solwaybank wind farm in Dumfries & Galloway for over £82m from RES. The wind farm was acquired when it was in the early stages of construction. The team dealt with all property, planning and grid connection contracts over a period of a year.
We acted for Fred.Olsen Renewables Limited in a sale to Aviva Investors of 49% of the shares in the companies owning two operating wind farms – Brockloch Rig and Crystal Rig 3, both in the south of Scotland – totalling 75.3 mega watts.
We have advised the renewables arm of Alpha Real Capital on various acquisitions of renewable energy projects and have carried out extensive due diligence on all key project contracts including construction documentation, grid connection agreements, power purchase agreements and regulatory aspects of the Feed-In-Tariff accreditation as well as property and planning due diligence and reporting on red flag issues and the preparation of legal due diligence reports.
We advised global investment manager InfraRed Capital Partners on the financial close of a £78 million investment for a 100% interest in Afton Wind Farm – a fully consented, construction ready
25 turbine, 50 MW onshore wind farm located in the south west of Scotland.
We were then involved in the sale of Afton Wind Farm to Red Rock Power, a subsidiary of the Chinese state-owned company SDIC. InfraRed Capital Partners only acquired Afton Wind Farm in 2016 and then completed construction very quickly in order to obtain ROC accreditation before the deadline for that expired and also entered into a PPA with a subsidiary of Centrica so that the sale could be completed within 2 years of the acquisition
Sale of Andershaw wind farm- we acted for Statkraft in a £121m sale in 2021, assisting them with the provision of project-side advice, vendor due diligence and the provision of a certificate of title.
Longhill – We acted on behalf of Energiekontor in relation to the sale of Longhill, a 50MW wind farm located in West Lothian, to Capital Dynamics in March 2021, one of the first subsidy free wind farms to commence construction in Scotland.
Crystal Rig wind farm – David Bone has been involved in this wind farm for Fred. Olsen for over 20 years now, starting drafting options in the late 1990s for Phase One (completed in 2002) and then completing Phase Two in 2008, Phase Three in 2016 and now working on the consented Phase Four (which will take the site above 250mws) while also adjusting the documents to permit another onshore wind farm and the proposed NNG offshore wind farm to connect into adjoining substations, making it one of the most complex transactions we have worked on.
Offshore wind
Overview
We advised Equitix on the Scottish aspects of the acquisition of a 17.5% stake in Beatrice offshore wind farm which is a 588MW offshore wind farm located 13km off the northeast coast of Scotland.
We acted for Marine Scotland in advising on decommissioning arrangements for offshore wind farms
We also acted for Wick Harbour Authority when in 2017 it granted a lease and other rights to Beatrice Offshore WindFarm in respect of the use of parts of the harbour in connection with its operations base for their offshore project
We have advised clients in relation to the option agreement and leasing documentation required to be entered into in relation to the recent ScotWind offshore leasing round.
Hydropower
Overview
We advised Aberdeen Standard Investments infrastructure debt team on its loan of £43m to finance 6 operational hydro-electric schemes all of which are situated on rivers in the Scottish Highlands.
We acted on behalf of AIB Group alongside Gowling WLG in connection with the provision of a £15.5 million capex facility to developer, Edge Hydro Holdings Ltd to part finance the construction of seven "run-of-river" hydro schemes at Dalness and Glen Etive in Scotland,
We have been involved with over 100 large and small scale hydro projects acting on behalf of Scotland's largest landowner, Forestry and Land Scotland.
We acted in the development of the Community Hydro Scheme for Sunart Community Energy on croftland in Lochaber in the Scottish Highlands which was a bespoke project involving 3 landowners, and on crofting common grazings.
We acted for PPF Banka A.S in the funding of four run of the river hydro schemes to be developed by Renfin Corrimony/Hydropol at Corrimony Invernesshire
Energy storage
Overview
We advised ForesightGroup on the acquisition of the project rights to the 50MW Blackpark battery storage project in Nairn for ForesightGroup which included advice on how to secure the cabling rights for the project to the substation from various third party landowners.
We acted for Metka EGN Limited in the provision of construction finance for a 30MW battery storage facility located in near Livingston, West Lothian. Our engagement included advising on the debt documentation, taking security over the project including fixed security over shares, the site, grid connection agreements and key contracts and putting in place appropriate intercreditor and subordination documentation.
We also act for landowners and have advised on 3 battery storage schemes going through development.
Energy from waste
Overview
We advised Octopus Investments Limited on the acquisition of the project rights to the net 17MWe energy recovery facility on the Oldhall Industrial Estate in Irvine, Ayrshire, capable of processing over 185,600 tonnes per annum of non-recyclable household and commercial & industrial waste. This facility will be the first large-scale, subsidy free energy recovery facility in western Scotland.
We advised JLEN Environmental Assets Group in 2020 on an £11milion investment in the Peacehill Farm, Fife, anaerobic digestion plant, which has a thermal capacity of 5 mws and predominately produces biomethane to the National Grid. Our work covered all property and planning aspects plus Scottish banking and corporate work
Our events
Since 2010, Harper Macleod's Scottish Highlands Renewable Energy Conference (SHREC), has put the spotlight on the country's green energy activity and credentials.
Watch full playlist
Testimonials
"The Harper Macleod team worked without hesitation to meet our tight timeframes and provided valuable Scots law input in relation to our legal due diligence of a complex asset. The process was run very efficiently and the advice was sensible and commercial. We are very extremely grateful to David Bone's Energy Team and Stephen Chan's Corporate Team"
"We are delighted to have helped Steve and Tony complete the acquisition of the former McDermotts fabrication yard, which could be transformational for the area and a hugely important part of supporting the country's green transition as well as ensuring decommissioning work can stay within Scotland and the UK."
"Harper Macleod LLP advises both funders and borrowers on the financing and refinancing of a range of renewable energy projects. It often acts as local counsel to a number of English firms on cross-border matters. Well known for its property and planning expertise, the firm also provides advice around construction, grid connection agreements and regulatory matters."
"Offers expertise ranging from wind and hydro matters to solar projects. Handles a range of transactional matters as well as project financings. Acts for developers and funders across the industry, particularly in relation to wind farm developments, and is a popular choice for landowner clients. David Bone has extensive expertise acting for developers and landowners on renewable energy projects. Clients note "David is very commercial and practical in his approach to identifying and mitigating risks for the client."
Get in touch
Call us for free on 0330 159 5555 or complete our online form below to submit your enquiry or arrange a call back.