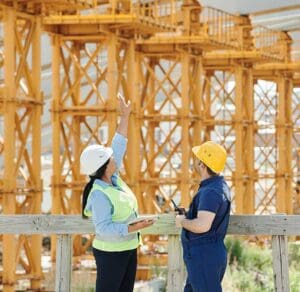 Construction & engineering solicitors
Harper Macleod's construction & engineering team has a reputation for quality, built on decades of experience in the sector.
Construction law advice in Scotland, the UK and beyond
The Construction & Engineering team advises a wide range of public and private sector clients including contracting authorities, developers, funders, contractors, sub-contractors and consultants as well as owners, purchasers and tenants. We deal with all aspects of construction and engineering projects from advising on procurement processes and contract structures to providing strategic guidance during the delivery of a project.
The team, two of whom are Law Society of Scotland Accredited Specialists in Construction Law, provides assistance with contract drafting, negotiation, interpretation and assembly for all types of industry standard form and bespoke contracts. We have an unrivalled knowledge of projects procured under the hub initiative and broad experience in delivering residential/affordable homes, commercial real estate (offices, retail, hotel and mixed use developments), renewable energy and civil engineering and other infrastructure projects.
Our construction dispute resolution practice is known for sound, commercial advice in cases ranging from small scale disputes to complex Court of Session actions.
Meet the team
Our team is led by construction and engineering legal experts recognised as leading practitioners in their field. Our commerical approach and innovative solutions set us apart from other legal teams in the industry.
Contract negotiation
Overview
Our specialist advisers guide clients through the negotiation and conclusion of construction and engineering contracts for projects of all sizes. We are experienced in residential and commercial real estate development, renewable energy projects and large scale public infrastructure projects. We are known for applying innovative solutions to joint venture projects. Our in-depth knowledge of complex development finance, leading role in the hub initiative and our commercial approach to projects makes us the number one choice for many clients in the construction and engineering sector.
Contract administration, compliance and management
Overview
Construction and engineering contracts are living documents, designed to ensure the smooth running of your project. Our experienced team supports clients in the day to day administration, compliance and management of construction and engineering contracts including documenting variations, negotiating extension of time and loss and expense claims, advising on contractor insolvency and dealing with other termination scenarios.
Taking early legal advice to support proper contract administration can save time, money, and business relationships by avoiding disputes further down the line.
Contract disputes
Overview
Timely specialist advice is key to the successful resolution of disputes in construction and engineering projects. Whether a dispute is looming on the horizon or has already crystalised, our team will offer strategic advice on the best available remedy and the most efficient and cost effective means of achieving a positive outcome.
The team takes a commercial approach and represents clients at all stages from dispute avoidance, negotiation and mediation through to adjudication, arbitration and litigation.
Specialist advisory team
Overview
We recognise that construction and engineering companies have a wide range of corporate and commercial needs – advice on property, planning, procurement, employment law and corporate law for example.
Harper Macleod's construction and engineering team work closely with specialist colleagues in real estate, banking & finance, renewable energy, infrastructure & projects, corporate, employment and planning & environmental to ensure that you receive the best legal advice for your business on the full range of matters.
V&A at Dundee
Overview
We acted for signature Japanese architect KKAA in relation to the drafting and negotiation of their appointment agreement with Dundee City Council as multi discipline consultant for the prestigious V&A Museum at Dundee.
Glasgow 2014 Commonwealth Games
Overview
We advised Glasgow 2014 Limited on all contracts for the delivery of overlay for the Games venues for the Glasgow 2014 Commonwealth Games. Our team prepared a variety of template supply contracts for the multitude of necessary contracts for the design, supply and installation of all components and for temporary as well as permanent legacy works. We acted in the drafting and negotiation of the build contract for the conversion of Hampden Park from a football stadium to the athletics venue for the Commonwealth Games.
Final account payment dispute
Overview
We acted for a public sector client in relation to a major payment dispute with an infrastructure contractor involving a series of adjudications. We provided strategic advice, advised on legal and factual considerations and reviewed and prepared responses to internal management and external requests for justification of actings.  We successfully defended all actions raised for payment of a significant sum and negotiated a binding settlement agreement at a value of less than one fifth of the sum claimed.
Commercial mixed-use development
Overview
We prepared and negotiated all construction documentation to be put in place for the design and construction of a 59,000 sq ft cross dock distribution centre and an office. All documentation had to be approved by and negotiated with a purchaser and funder who each required a full suite of warranties and particular project specific environmental guarantees.
Large scale offshore windfarm development
Overview
We are advising a construction joint venture comprising one of the world's largest contractors in connection with a proposed significant offshore windfarm. The contract involves the design, build and installation of substructures for the windfarm which is to be constructed in a unique location. We are advising on the terms of the proposed main contract and also a sub-contracting strategy.
Aberdeen Western Peripheral route
Overview
This £530m project was procured by Aberdeen City Council, involving the construction of approximately 58 kilometres of mainly new-build highway to form a by-pass for the City of Aberdeen. We acted for a consortium of international and major UK construction companies, bidding to be appointed as contractor for the project works and who were also proposed investors in project co.
The team advised the consortia throughout the competitive dialogue period, including providing advice in relation to and full input on the draft project agreement. We also provided advice on key risk areas such as the identity of the procuring authority, route of the project road, significant new structures, management of utilities companies and ground conditions risk. We developed particular knowledge of security package requirements for bond-financed projects.
Construction club
Connect with others in the industry and share perspectives on relevant and contemporary topics affecting the construction and engineering sectors, within a relaxed and social environment.
Learn more
Testimonials
"Respected team advising on engineering and construction contracts regarding some of Scotland's most significant infrastructure projects." clients highlight "they explain issues in a real-life situation which is really useful in understanding legal jargon" and "Their attention to detail is excellent."
"A busy practice advising contractors and employers, including a large number of public sector clients and housing associations, on D&B contracts for large school campus, housing, infrastructure and hub projects." Clients say "Michael Conroy is a hugely experienced construction practitioner, with experience in both contentious and non-contentious situations" and "Euan Pirie is an excellent partner – a good communicator with a commercial and pragmatic outlook. He is always happy to go the extra mile for clients."
'Laura is a dynamic force who is great with clients, experienced in running big cases, and always proactive in managing clients' expectations and understanding of the issues.' "Laura…I think you are quite outstanding and did an incredible job for us" "Well done to everyone again and thanks for your support. It was a long road, but we got there!" "It was this preparation along with the calm and measured way Laura delivered our arguments on the day and especially your insights into Scottish law and protocols which clearly gave us an advantage." "Everyone had expressed how delighted they were with the result, and how impressed they'd been with your work."
Euan Pirie advises a wide range of clients including city councils, developers, project companies and contractors. He possesses considerable experience in the structuring of PPP projects in the education, healthcare and transport sectors. He gives you the best options rather than just sticking to one direction and really goes the extra mile to get the deal done in a way that is most favourable to his client.