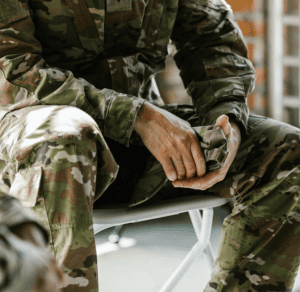 Armed Forces compensation claims Scotland
We can help guide you through any claim to the Armed Forces Compensation Scheme having specialist solicitors who can provide you with full advice throughout the claim process.
Armed Forces Compensation Scheme (AFCS)
We are specialist experts and have one of the largest personal injury departments in Scotland with over 25 personal injury specialists covering the whole of Scotland with offices in Glasgow, Edinburgh, Inverness, Thurso and Lerwick.
As one of the leading Scottish law firms Harper Macleod also demonstrated its support for the country's Armed Forces community by committing to honour the Armed Forces Covenant in 2018.
Through the Covenant, Harper Macleod confirmed it is an armed forces-friendly organisation and seeks to support the employment of veterans young and old and working with the Career Transition Partnership (CTP), in order to establish a tailored employment pathway for Service Leavers. The firm also offers a discount on its services to members of the Armed Forces Community.
You can find out more about the Armed Forces Covenant here
Common questions about making a claim
How long do I have to make a claim for an injury sustained during service?
Answer
A claim for compensation through the scheme will only be considered if that claim is made within 7 years of the date of the injury or illness occurring.  If you had an existing injury or illness and you feel this was made worse through your service, then your claim must be made within 7 years of the date on which it was made worse.  There may not have been any specific incident that lead to your injury or illness and if so, your claim must be made within 7 years of the date you first sought medical advice.  Alternatively, a claim can be made within 7 years of the date of your discharge from service.
There are exceptions to the seven year time limit in cases involving a late onset illness.  This applies to illnesses which involve a malignancy or physical disorder which may have been caused by something you were exposed to during your service.  The exposure may have been more than 7 years before you became aware of the illness.  In these cases, the claim must be made within 3 years of the date medical advice was sought.
Am I eligible to make a claim to the armed forces compensation scheme?
Answer
You may have suffered injury or illness whilst serving with the armed forces.  You may have even lost a partner during their service.  If so, then you will be entitled to make a claim to the Armed Forces Compensation Scheme (AFCS).
The AFCS is available to all members of the Royal Navy, the Royal Marines, the British Army, the Royal Air Force and also the Reserves.
Testimonials
"Staff are really friendly and down to earth. They break everything down perfectly so you understand everything that is going on. Communication was amazing and I would just like to thank Laura Gallagher who did all of the above and much more making it as easy and effortless as possible for myself. Highly recommended."
"I would just like to thank Marina Harper and Harper Macleod for all your work since my accident. It's been a long process thanks to covid but I appreciate all your efforts in getting my claim through. Just want to reiterate that this hasn't been a process prior I had any knowledge in, so thank you for taking the time to respond to my emails and questions I have asked to understand the process."
"Richard Steell's hard work and dedication on my case has removed the stress from my accident aftermath and resulted in a fair result."
"Routinely represents household insurance companies and individual consumers in claims related to fatal and catastrophic road traffic accidents, employer's liability accidents and public liability injuries, as well as disease work."
"Heather Calderwood handles catastrophic injury and fatal claims following RTAs and workplace accidents. She also advises on employers' liability and occupational disease matters." Clients comment "She is absolutely excellent and does a great job for her clients. Nothing is ever too much trouble for her."
"Well-regarded team with considerable experience in employers' and public liability and industrial disease actions."
Get in touch
Enter your details below to request a free consultation and we will arrange a convenient time to discuss your case.