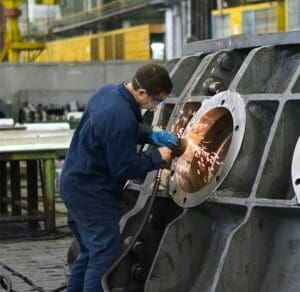 Accident at work solicitors
Our specialist personal injury solicitors can provide free legal advice with no upfront costs.
Request a free consultation today to discuss your case.
Accident at work compensation claims
No-one chooses to be involved in an accident at work but you can choose your law firm. If you have had an accident you may be able to claim against your employer.
Your employer has a duty to take reasonable care of your health and safety during your working hours, this includes working in areas outwith their premises. Your employer is also responsible for the acts or failures of your fellow employees during the course of their employment, should that result in an injury in the workplace. If your employer has breached any of their duties, and as a result, you were injured, then you may have a claim.
To get an indication of the strength of your claim you should get in touch with us as soon as possible. Many types of claims are time-barred under Scots law so the sooner you start the process the better.
Common questions about accident at work claims
What are my rights if I have an accident at work?
Answer
A common question is whether you can be made redundant due to your claim. Your claim for injury cannot be used as the reason for your redundancy.
If you are of the opinion that you have been made redundant due to your claim we can put you in touch with someone from our employment team to give you advice.
How does an accident at work claim work?
Answer
To get an indication of the strength of your claim you should get in touch with us as soon as possible. Many types of claims are time-barred under Scots law so the sooner you start the process the better.
Our specialist accident at work claims solicitors will intimate the details of your claim as quickly as possible after the accident has happened. The details of the accident and injury will be sent to the party who is at fault and/or their insurance company.
Some insurers will often to try to settle your injury claim directly with you and this can mean that you can receive less compensation than you should. If we represent you we will advise you appropriately should this happen.
We will ingather details of your losses, any documents that we need to prove your case and will contact witnesses as soon as possible.
How do I prove my injury?
Answer
We can claim compensation for any injury you suffer including, fractures, scarring, tinnitus and psychological trauma. You may also be able to claim for general out of pocket expenses, loss of earnings, care and assistance required and various other expenses.
We require documents to prove your losses and will instruct relevant experts in order to prove that the injuries were linked to the accident or negligence and the extent of your losses. This includes medical reports to show the nature and extent of your injuries. We will advise you on what we are able to input as part of your claim and guide you through the process.
How much compensation could I get?
Answer
Every case is different and compensation will vary according to your specific circumstances however normally you can claim for compensation for your injuries and any losses which you have suffered as a result of your injury (for example wage loss, damaged personal effects or good, travel costs, services supplied by relatives etc).
The amount of compensation you will receive will depend on the evidence available, whether the neglected party is fully or partially responsible, the losses suffered and any additional costs to you. In terms of your injury claim factors taken into account when assessing the level of compensation are the extent and severity of your injury, the long terms effects of your injury and the extent to which the injury has affected your life.
How much does a personal injury claim cost?
Answer
For clients who do not have the benefit of Legal Expense Insurance ("LEI"), we deal with claims on a No Win No Fee basis, meaning you pay nothing if your case is unsuccessful. Even if you have LEI there is no requirement for you to accept the solicitors chosen by your insurers. You have the right to "freedom of choice"  if you feel they do not have the expertise for your claim or even the right location.
A No Win No Fee agreement is also known as a confidential fee agreement which is an agreement you make with us so that you can make your personal injury claim without having to put up any legal fees upfront. So if your claim is unsuccessful the agreement states you will not have to pay any fees, helping to relieve any stress or worry throughout the claim process.rnrnIn addition to our No Win No Fee service we can access support, medical care, and help for you and your family due to the relationships we have with support groups in Scotland and have offices throughout Scotland – Glasgow, Edinburgh, Inverness, Thurso, Elgin, and Lerwick. We will fight for justice and fairness, we will do the hard work for you and are committed to making a positive difference.
Can I sue my employer if I get injured at work?
Answer
Some common examples of when your Employer could be at fault include:
Was the machinery in a sufficient working order?
Were you supplied with the correct tools to carry out the task?
Did your injury occur due to you not having received training for the task you were involved in?
Did you require specific clothing for the task? If so, were you provided with them? Some examples of clothing required include goggles, gloves, boots, and ear protectors.
Did you trip due to the state of the flooring on a walkway?
Were you provided with equipment when working at height?
Was a risk assessment carried out for the task you were involved in?
Did your task require more than one person? If so, were you provided help from a fellow employee?
Did your employer keep manual handling to a minimum?
Testimonials
"Staff are really friendly and down to earth. They break everything down perfectly so you understand everything that is going on. Communication was amazing and I would just like to thank Laura Gallagher who did all of the above and much more making it as easy and effortless as possible for myself. Highly recommended"
"I would just like to thank Marina Harper and Harper Macleod for all your work since my accident. It's been a long process thanks to covid but I appreciate all your efforts in getting my claim through. Just want to reiterate that this hasn't been a process prior I had any knowledge in, so thank you for taking the time to respond to my emails and questions I have asked to understand the process."
"Richard Steell's hard work and dedication on my case has removed the stress from my accident aftermath and resulted in a fair result."
"Routinely represents household insurance companies and individual consumers in claims related to fatal and catastrophic road traffic accidents, employer's liability accidents and public liability injuries, as well as disease work."
"Heather Calderwood handles catastrophic injury and fatal claims following RTAs and workplace accidents. She also advises on employers' liability and occupational disease matters." Clients comment "She is absolutely excellent and does a great job for her clients. Nothing is ever too much trouble for her."
"Well-regarded team with considerable experience in employers' and public liability and industrial disease actions."
Get in touch
Enter your details below to request a free consultation and we will arrange a convenient time to discuss your case.