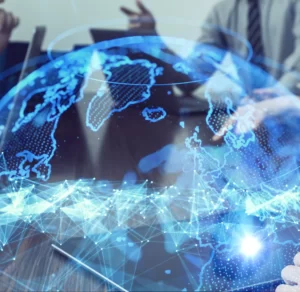 International business
We work with domestic clients doing business across the globe, and clients from outside Scotland who require legal representation here.
Globally connected
At Harper Macleod we have a considerable international practice and work both with domestic clients who are doing business across the globe, and with clients based outside Scotland and the UK who require legal representation here.
We advise on hundreds of international transactions every year, involving multiple jurisdictions around the world.
Scottish legal know-how is renowned worldwide and there is increasing demand for our services, with many of our lawyers engaged in international work.
The depth of our experience is supplemented with the strength of our extensive network of foreign counterpart relations, with the result that we can assist clients with their international needs quickly and effectively. We have developed a network of specialist firms in lead markets around the world, which enables us to make the right connections for our clients while still allowing us oversight of their projects if required.
International desks
While we are able to assist clients in any country, we have a range of particular international desks managed by lawyers within Harper Macleod who have a connection with that jurisdiction. They can facilitate our work with companies wishing to enter the UK market from that country, or any UK and other international clients looking to expand into those countries.
More information on our international desk contacts is available below.
We carry out a full range of work internationally and our teams are able to handle any matters you may have.
Cross-border collaboration
As one of Scotland's leading independent law firms, we regularly work collaboratively with firms from other jurisdictions.
Harper Macleod is a full-service firm, ideally positioned to work with law firms outside Scotland requiring assistance in relation to Scots law.
Over the past decade many of the traditional 'big name' Scottish firms have been taken over by international firms, while others have their own presence in London. Harper Macleod, renowned as a Scottish-only firm, has offices in Glasgow, Edinburgh, Inverness, Elgin, Lerwick and Thurso, but none outside the Scottish jurisdiction.
We have consistently grown our share of the Scottish legal market while working closely with leading UK and international law firms in relation to Scots law matters. As a result, we are the firm of choice for many leading law firms, providing high-quality, high-value support and advice on a wide range of issues including:
Handling the Scottish elements of multi-jurisdictional transactions
Using Scots law to create innovative and effective solutions
Overcoming unique challenges relating to Scots law
Our international desks
We have particularly notable links with certain jurisdictions around the world.
Australia
Overview
We have strong connections with leading commercial law firms in Australia and are regularly instructed on cross-border deals acting alongside our Australian counterparts.
The signing of the Australia-UK FTA on 15 June 2021 signifies the importance of our trading relations. The UK continues to be Australia's fifth largest two-way trading partner and second largest in services – last year the relationship between the two countries was valued at $36.7billion. Indeed, in 2020 Scotland exported £126m of beverages to Australia!
With such a fulsome flow of goods and services between Scotland and Australia, we regularly support clients looking to export to Australia and equally to assist Australian businesses looking to operate or trade in Scotland and the UK.
Our recent work has included acting:
As Scots Counsel on behalf of the world's largest global satellite providers on the restructure and financing of the business
On behalf of an Australian exploration and mining company in relation to their Scottish mining interests;
On behalf of a number of Australian investors in relation to their acquisition of Scottish hotels;
On behalf of Australian private clients in relation to their purchase of land, estates and crofts across the Highlands & Islands;
Desk head
Anne Macdonald, a partner with the firm who also heads up our business development team together with the HM Connect network (a Scottish based legal referral network), heads our Australia desk. Anne has strong family connections to Victoria, Australia following descendants of her ancestor the great Long John Macdonald having emigrated in the early 1900s. As a result, Anne has spent a great deal of time in Australia and continues to do so. Anne is also one of the closest living descendants of the Blessed Mary MacKillop who was canonised at the Vatican in 2010.
Denmark
Overview
Neighbours, of sorts, Denmark has had long links throughout history with Scotland.
Not least of these, the current UK Royal Family is descended from a Scot and a Dane, King James VI and I and his Queen, Anne of Denmark.
Denmark, like Scotland, is renowned as a great exploring and trading nation, and in the modern age the countries share close ties in areas such as renewables, oil and gas and life sciences.
Desk head
Amy is a Partner in Harper Macleod's Business Development team and the firm's International desk contact for Denmark. During her legal education, Amy spent time at Københavns Universitet studying subjects with an international focus including Human Rights, Law of War Crimes and Media Law. She has been a regular visitor back to Copenhagen ever since.
France
Overview
Scotland's relationship with France is one of its oldest and strongest international alliances.
France is one of Scotland's most important export destinations and is among the leading inward investors to Scotland, with French businesses employing many thousands of people in Scotland.
Scotland is also home to a large number of French citizens.
At Harper Macleod we have worked with French counsel to address matters as diverse as supply and purchase arrangements of complex technology to French purchasers and insolvency matters in the healthcare sector. We have also acted in relation to media and entertainment matters, specifically on disputes surrounding the payment of royalties and other sums under distribution and publishing arrangements.
Desk head
Bernadette's interest in France and the French language stem from having spent two years at an international school near Nantes when she was a child. As part of her legal studies, Bernadette also spent a year at the University of Strasbourg, studying a variety of French law subjects, including private and constitutional law, and also various aspects of EU law.
J'ai obtenu mon diplôme d'avocate en Ecosse en août 2018, après avoir obtenu un diplôme de droit spécialisé en droit français à l'université d'Aberdeen en 2015. Durant mes études, j'ai passé une année à l'université de Strasbourg où j'ai suivi des cours de droits en français, tels que le droit privé et le droit constitutionnel, ainsi que le droit de l'union européenne. Je suis passionnée par la France et la langue française depuis mon enfance, durant laquelle j'ai passé deux ans dans une école internationale près de Nantes.
Germany
Overview
With the largest economy in Europe, and the fourth largest in the world, Germany is an important partner for Scotland.
The country is one of Scotland's largest export markets and a major investor – the third largest source of foreign direct investment. Ties between the two countries encompass many commercial sectors, while there are also strong links in academia.
We have assisted a number of well-known brands with their German expansion plans, addressing through local counsel the setup of appropriate entities and related group structuring matters. A number of our German clients are international in nature, and such work has often involved liaising with non-EEA counsel and group tax and accountancy advisors. We have also addressed a number of trade and supply chain arrangements, notably in the medical, healthcare, textile and food and drink sectors.
Harper Macleod's work in relation to Germany is diverse, and other experience has included:
Acting for a leading food service provider on the acquisition of a Scottish headquartered business in the food & drink sector.
Acting for German clients in the purchase of Scottish properties.
Acting for German-based insurers in defending product liability claims raised in Scotland. The manufacturer of the product was based in Germany but the accident occurred when the product was used in Scotland.
Advised a German gold bullion trader on the regulatory framework for promoting investment in gold as a means of investing under Sharia law in the UK.
Advised German clients on documentation required to allow them to work with a UK agency.
Advised a brewing client on the termination of a distribution agreement in Germany.
Advised a German zinc cladding manufacturer on their potential liability for cladding they had manufactured and installed.
Desk head
James is a partner in our corporate team. He has wide experience of transactional corporate matters focusing on mergers & acquisitions (M&A) and disposals as well as investments (including venture capital transactions), shareholder arrangements, joint ventures, corporate reorganisations, demergers and succession planning. His work has seen him advise in relation to German matters, as well as deals involving other jurisdictions.
Ireland
Overview
There are strong historical links between Scotland and Ireland, underpinned by the close geographical proximity and similar business culture. This connection is increasing in importance year-on-year, with trade levels between Scotland and Ireland rising. Against the backdrop of Brexit, the trade links between our respective economies will only become more important with both countries' governments working together to maximise trade and collaboration.
Our work in relation to Ireland is diverse, and has included:
Advising on commercial contracts for an Ireland-headquartered, global tech consultancy company
Acting on behalf of major Irish-based lenders
Advising a major international sporting organisation based in Ireland.
Advising a large Irish retailer on Scottish matters
Acting for an Irish building materials company in the sale of Scottish land
Acting for the surveyors of an Irish-based property investment partnership in respect of a dilapidations claim over commercial property.
Desk head
Tony is head of Harper Macleod's Banking & Finance team in Scotland and has regularly acted for Irish-based lenders for many years as well as advising many Irish-owned businesses on transactions involving Scotland. He has a strong network of contacts with the Irish business community including companies, funders and advisers.
The firm is a member of Causeway: Ireland Scotland Business Exchange and the British and Irish Chambers of Commerce. Tony and several other partners are members of the British Irish Commercial Bar Association. Tony regularly attends events held by these organisations, as well as frequently visiting Ireland to keep in touch with our contacts there.
At Harper Macleod we very much value our links with Ireland and look forward to assisting our clients in any way we can.
Italy
Overview
In the late 1800s, many people left Italy to make Scotland their home, and today Glasgow still has one of the largest contingents of Italian descendants of any UK city.
There are a multitude of cultural and institutional links between the countries, with strong economic links and trade in areas including engineering, renewable energy, food and drink, and the creative industries.
Our work in relation to Italy is wide-ranging, and has included matters such as acting on behalf of Italian companies with UK subsidiaries, for example to enforce Italian court judgements on Scottish debtors.
Desk head
Italian speaker Cinzia studied Law and Italian at the University of Strathclyde and spent a year studying Italian Law at the University of Verona.
Latvia
Overview
David Kaye was appointed as Honorary Consul in Glasgow to Latvia in November 2016.
Latvia and Scotland have been actively building cultural, travel and economic links since the country became independent in 1991.
We have acted for several Latvian businesses seeking to operate in the UK and deal with many legal requirements including incorporation of companies, protection of IP, commercial contracts and property matters. David Kaye has helped Latvian businesses find UK partners such as distributors or licensees. We also have experience of working with companies based in the UK seeking to trade in Latvia and other Baltic States.
Desk head
As Honorary Consul he represents the interests of Latvians in the district and strengthens the partnership between Latvia and Glasgow in culture, tourism and economic links. Latvia's first honorary consulate in the city was opened in 1922, however, David is the first person to hold the position since Latvia regained independence in 1991.
David is a vastly experienced business adviser who is also recognised as Scotland's leading franchising lawyer, and is a frequent visitor to Latvia.
Netherlands
Overview
The Netherlands is Scotland's largest export market in the EU, partly down to the role of Rotterdam through which many Scottish products enter the continent of Europe.
However, as well as being a trade hub, the country, which has a population fluent in English and a highly skilled workforce, is also a very attractive market for Scottish businesses. The two countries have long had close cultural links,
Harper Macleod has extensive experience working with Dutch counterparts in areas including real estate, marine, shipping, telecoms, and general international trade.
Our experience has included:
In the life sciences and technology sectors, assisting with contractual, IP, tax and regulatory matters in relation to multi-jurisdictional manufacturing and supply arrangements, involving non EU parties with EU and UK interests, a Far Eastern manufacturer, and Dutch based EMEA supply hubs.
In respect of the renewable energy sector, dealing with a number of IP related disputes, alongside having worked on, in the traditional energy / oil & gas sector, a number of UK Ltd / Dutch BV oilfield services, consultancy and technology licensing matters.
Advising on a number of acquisitions and disposals of technology related companies, where there has been a Dutch interest.
Acting for the property managers of a Dutch property investment company with global interests, in respect of property litigation.
Desk head
Jamie has worked on many Dutch-related matters, and acts for a number of Dutch businesses in relation to their UK interests. His work focuses particularly o international trade, with strong interests in life sciences, technology, sports, energy and software.
He has extensive experience of working with local Dutch counsel and other service providers in relation to corporate governance, company management and general compliance matters, and regularly visits the Netherlands.
Norway
Overview
Norway is one of Scotland's biggest export markets while a significant number of Norwegian companies operate in Scotland, employing thousands of people and providing inward investment.
Norway has often been held up as a model for Scotland to follow economically, and the links between the countries go back centuries. Indeed Shetland, where Harper Macleod has a permanent office, was formerly part of Norway and Lerwick is almost as close to Bergen as it is to the Scottish mainland.
Harper Macleod has carried out a significant amount of work in Norway, working with many Norwegian businesses and organisations in areas such as shipping, aquaculture, and energy.
We have also carried out varied and often complex IP work. We have acted for a UK-based oil and gas sector technology developer and consultancy business in relation to multi million pound development and licensing arrangements concerning patented oilfield technologies. We have also advised one of the UK's leading healthcare brands on internet based brand rights infringement matters. Further we have often worked for non-EEA counsel, managing rights acquisition and freedom to use projects which have included the Norwegian territory.
Other experience has included:
Assisting clients in relation to the review of Licence and Distribution Agreement (and the effect under Norwegian law).
Advising a client on a potential joint venture in Norway.
Acting for a UK subsidiary of a Norwegian company.
Desk head
Chris is one of our Corporate Partners, and is the Lead Partner for Harper Macleod's Highlands, Islands & Moray operation.  Through this – and particularly our Shetland presence – he is experienced in transacting with Norway, principally in relation to the marine economy.
Spain
Overview
Spain is one of Scotland's top 10 export markets, and while many people's first thoughts of the country relate to it being one of our most favoured travel destinations, the two nations have important economic links which are helped by the great travel links.
Spain is one of the largest consumer markets in the EU, with around one million people from the UK living there. Areas of interest between both countries include technology and engineering, renewable energy, fintech and life sciences, as well as food and drink and tourism.
We are often engaged in relation to Spanish property matters, concerning UK individuals. We have also addressed business purchase and sale matters, with a particular focus on healthcare and purchase out of insolvency. Our work includes the marine (pleasure craft) sector, and attending to shipping sale and purchase matters. We have acted on a number of brand rights acquisition projects and also rights disputes. We also acted recently in relation to Scottish-based proceedings concerning a Spanish hotel operator client, and personal injury liabilities.
Desk head
Spanish speaker Rebecca has a Scots law and Spanish law degree from the University of Aberdeen, and spent a year at the University of Deusto, Bilbao. She has also spent time working and living in Colombia.
Soy abogada desde Agosto de 2018 y me gradué por la Universidad de Aberdeen con el título de Derecho Escocés y Español. El curso incluyó una introducción al sistema de leyes de España. Como parte de la carrera, pasé un año estudiando en España en la Universidad de Deusto (Bilbao) donde estudié Derecho Constitucional, Administrativo y Privado. Este curso se centró en derecho de la Unión Europea. Entiendo español a nivel profesional, ya que estudié el idioma en España mientras trabajaba como profesora de inglés. También trabajé unos meses en Colombia para mejorar el nivel del idioma.
Sweden
Overview
Sweden has long-standing trading links with Scotland in particular as a route into the UK market, but is also an important market for UK exporters. We regularly advise UK clients on expanding their sales into Sweden but have also acted for Swedish clients doing business in Scotland.
Desk head
As head of our Food & Drink Group, Scott has advised a number of Scottish food and drink producers on setting up distribution arrangements in Sweden and through that has contacts with a number of Swedish law firms and other professional advisers. Through such contacts Harper Macleod has also advised Swedish clients on their investment into companies and property in the UK.
China
Overview
Scotland has strong business links with China, and our team regularly acts on China-related work. Recent matters include:
Advising on the sale of a Scottish whisky company to Chinese investors.
Assisting a healthcare sector client with its potential investment in a Chinese hospital group.
Advising on a medical devices manufacturer and supplier on outsourced manufacturing arrangements relating to China.
Advising Chinese clients on the acquisition of Scottish property.
Assisted one of the UK's leading sports clubs expand its brand into that jurisdiction.
We have also addressed copyright and trade mark rights infringement matters for a leader in the oilfield software market, a leading fitness equipment manufacturer and a number of healthcare related businesses. Our work in healthcare matters is particularly of note, where we have assisted on various device manufacturing projects, regulatory approvals for EU supply and marketing (including CE marking), designation of EU representatives for Chinese based manufacturers, import disputes, supply chain contracting, establishment and tax compliance. We have also addressed a number of life sciences sector diligence projects for Chinese acquirers.
Desk head
Stephen has over 15 years' experience of corporate and corporate finance work including mergers and acquisitions, management buy-outs, joint ventures and public offerings. Stephen's family is originally from Hong Kong and he is a fluent Cantonese speaker.
Stephen 在企业和企业融资法律方面拥有超过15年的工作经验, 包括并购、管理层收购、合资企业和公开发行。Stephen 的家人来自香港, 他能说流利的广东话。
哈珀·麦克雷奥德团队(Harper Macleod team) 与中国有关的工作的一些例子包括:
-为一家苏格兰威士忌公司出售给中国投资者提供法律服务。
-协助医疗保健行业客户在中国医院集团潜质投资项目。
-为医疗设备制造商、供应商及中国相关的外包制造商, 安排提供咨询及建议。
-为中国客户收购苏格兰房产提供法律服务。
India
Overview
Scotland and India enjoy strong economic and cultural links.
Much of our work focuses on international trade, particularly with respect to businesses involved in IP and technology, sport (especially cricket), energy, outsourcing and retail. Our lawyers have acted for a number of India's large businesses conglomerates and many others, in respect of rights matters relating to the UK and EU. We have also assisted a number of UK-based entities with their expansion into the Indian subcontinent, assisting with supply chain matters, rights acquisition, disputes, compliance and multiple other areas.
In addition, we have working links with many leading law firms in India.
Desk head
Bruce heads the firm's employment law practice and advises in relation to both contentious and non-contentious matters across each of the public, private and third sectors. His practice extends beyond Scotland with Bruce regularly advising our clients who have pan-UK operations and beyond, including in India. Business immigration is an increasingly important area of his practice with clients recently including businesses and individuals seeking his guidance and support through planning and implementing recruitment, or leave to remain issues.
Bruce also leads the firm's sports law practice. In this role he advises the firm's many sports clients in relation to regulatory, disciplinary and governance matters and this role has given him great insight into the world of cricket.
Mexico
Overview
Mexico, like Scotland, is a country that combines its rich history and tradition with an increasingly modern economy. Energy is one of the key shared areas of interest as Mexico looks to develop its energy resources, leading to opportunities for Scottish companies.
Trade relationships have been building in recent years, with other sectors in which the countries have direct connections including food & drink, the creative industries, tourism, manufacturing and aerospace. Harper Macleod has a variety of experience in Mexico, advising on trade regulation aspects of supplying alcohol into the EU from Mexico, and historically on a number of brand related disputes
Desk head
Amy is a Senior Associate who, prior to joining Harper Macleod, worked for a year at Von Wobeser y Sierra Law Firm in Mexico City, a commercial law firm which deals with a full range of commercial matters and disputes. She provided Spanish translation assistance predominately to clients based in the United States of America and worked on commercial matters for clients such as major drinks manufacturers and leading fashion brands.
Pakistan
Overview
Scotland is home to a large and vibrant Pakistani community and there are strong links between the two countries. There are particular relationships and opportunities in areas including financial services, food & drink, healthcare, retail and renewable energy.
We regularly advise clients in the UK in relation to undertaking business in Pakistan and have introduced them to law firms in Pakistan to provide legal services on joint venture agreements, corporate and property matters.
We have advised extensively on the acquisition and maintenance of IP rights. Our work has also involved clarifying and addressing clients' rights and obligations in the context of trade restrictions, particularly multi-jurisdictional flows of technical information, across multi-party arrangements.
Desk head
Although born and raised in Scotland, Omar's family roots are in Pakistan and he has relatives in Lahore and Faisalabad, the two largest cities in the province of Punjab. He has travelled extensively throughout the northern regions of Pakistan including Gilgit, Chalat and Karimabad where historical forts and some of the most magnificent glaciers in the world can be found.
South Africa
Overview
The South African market continues to attract our clients with unique growth opportunities in a range of sectors, from IT and communications technology, sustainable and renewable energies, tourism and leisure, and film industries.
We have extensive experience working in South Africa for our clients and have also represented South African businesses here. Our experience has included:
Following successful management buyout of a leading accounting and tax advisory firm in the management of its IP and branding portfolio, including expansion into the South African market;
Advising a fashion industry body in attracting and acquiring business links in South Africa and the assignation of intellectual property and brand related rights.
Dealing with management of SA trade mark rights for major sporting organisations.
Following successful management of a leading accounting and tax advisory firm in the management of its IP and branding portfolio, including expansion into the South African market;
Advising a fashion industry body in attracting and acquiring business links in South Africa and the assignation of intellectual property and brand related rights.
Dealing with the management of SA trade mark rights for major sporting organisations.
Desk head
Gordon has over 30 years' restructuring, corporate recovery and insolvency experience. He advises banks and financial institutions, administrators and liquidators in large scale restructuring and insolvency assignments and supports some of the world's top banks and financial institutions. Gordon heads up Harper Macleod's international team, working with clients and law firms across the world, and also coordinates the USA country desk.
The Legal 500 UK has ranked Gordon as one of the elite leading lawyers in Scotland in Insolvency & Corporate Recovery and he is a member of the "Hall of Fame", for partners who are at the pinnacle of the profession.  They note that Gordon "can be relied upon for his no-nonsense, straightforward and commercial approach."
Harper Macleod also offers a wealth of expertise in key sectors, such as intellectual property and communication technology, food and leisure, sport, financial and energy to a variety of private, public, third and voluntary sector clients.
USA
Overview
Historical links between the USA and Scotland are very strong with a huge number of Americans able to trace their ancestral roots to Scotland.
Business links with the USA continue to be important for the Scottish economy with more than 500 businesses located in Scotland employing over 106,000 Scots and a combined turnover of $40 billion.
US citizens visit Scotland in huge numbers each year not only to trace their ancestry but also to take in our breathtaking scenery and sample our vibrant cities of Edinburgh and Glasgow – taking in our celebrated food, whisky and golf along the way.
Harper Macleod's work in relation to the US has been extensive. In life sciences, we regularly assist US-based clients with matters such as research data acquisition and transfer and clinical trial arrangements. We also act for a US-based venture capital group in relation to its Scottish investment matters.
Our brands work in the US is extensive, having dealt with infringement matters in many US states, and also the acquisition of US based rights for a multitude of clients in sectors such as energy, renewables, healthcare, food and drink, retail, textiles and software. In the UK and EU we act for some of the best known US brands in relation to IP matters.
Desk head
In previous roles as Scotland Managing Partner of one of the world's leading global law firms and before that as Managing Partner of the Lex Mundi member firm for Scotland, Gordon has transacted with lawyers and their clients throughout the USA.
Now as Head of International at Harper Macleod and an active member of the IBA, he continues to deal with American law firms and businesses on a regular basis.
At Harper Macleod we very much value our links with the USA and look forward to assisting you or your clients in any way we can.