Green Freeports
Our specialists have a strong track record of delivering for the marine economy, supported by a local understanding of the key issues affecting ports and harbours and the maritime supply chain.
Specialist advisors to Green Freeports and the maritime supply chain
Green Freeports are zones defined by boundaries, aimed at enhancing investment, jobs and regeneration by removing the application of normal custom rules and taxes within that zone.  Following a competition for applicants, in January 2023 the UK and Scottish Governments jointly announced £52m in funding for the creation of two new Green Freeports, one in Inverness and Cromarty Firth, the other based around the Firth of Forth.
Coming into operation in late 2023, the Scottish Green Freeport model will seek to draw upon the economic benefits sought under the UK Freeport regime whilst also supporting decarbonisation, a just transition to net zero by 2045, and the payment of a real living wage. Operators and businesses in the defined areas of the two Green Freeports are intended to be able to take advantage of associated funding opportunities and tax benefits.
The boundary circling the Inverness and Cromarty Firth Green Freeport will include the ports at the Cromarty Firth, Nigg, and Inverness.
The Forth Green Freeport will have sites at Grangemouth, Rosyth & Leith, Edinburgh Airport and Burntisland.
As part of our third annual Marine Economy Week 2023, we brought together stakeholders with an interest in the new trading zones to discuss the opportunities for Scotland.
Read our report.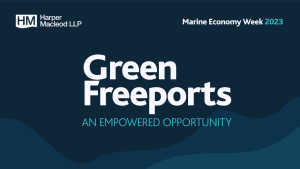 The benefits for business
The creation of the Green Freeports will allow goods to be imported into these zones for storage or manufacturing then exported with simplified customs documentation, without the payment of custom tariffs. This is expected to be combined with a proposed relaxation to the consent process for building residential and commercial property, having the effect of reducing the planning process in these areas and allowing businesses to move in and take advantage of the simplified customs rules.
There are also a number of taxation benefits including:
full business rates relief (non-domestic rates relief in Scotland) at certain premises;
employer National Insurance contributions relief;
an enhanced rate of Structures and Buildings allowance at 10%;
an improved capital allowance of 100%; and
full or partial relief from Land and Buildings Transaction Tax (LBTT) for any commercial property purchased or leased within a specified tax site.
Our services
Advisors to Green Freeports and the marine economy
Overview
At Harper Macleod we have a track record of delivering for the marine economy. Our team in Inverness is within the boundary of the Inverness and Cromarty Firth Green Freeport. Our office in Edinburgh is in the boundary of the Forth Green Freeport.
Our award-winning advisors have focussed on Scotland's rural and marine economies for many years. The footprint of our offices in Inverness, Edinburgh, Thurso, Elgin, Lerwick and Glasgow enables us to provide advice supported by a local understanding of the relevant factors to ports and harbours, and maritime supply chain.
Renewable energy
Overview
The creation of the Inverness & Cromarty Firth Green Freeport will bring with it a 35mw onshore electrolyser facility, one of the largest in the UK which is estimated to produce up to ten tonnes of green hydrogen a day. This will be generated through electricity from offshore wind and will help to power local distilleries in the region, bringing forward investment towards a large scale plant by 10 years.
Our Renewable Energy team specialises in a wide variety of energy projects and have been involved in acting for landowners, developers, planning authorities and funders on some of the largest onshore and offshore infrastructure projects in Europe. Members of the team have more than 80 years of combined industry knowledge in the sector, helping to secure the success of around 175 operational projects. This accounts for more than half of Scotland's total renewable electricity.
Corporate
Overview
Funding and tax opportunities within the two Green Freeport areas will bring with it a host of opportunities for local businesses. We have had a presence in Edinburgh and the Highlands and Islands for 20 years, during which time we have acted for hundreds of businesses operating at ports and harbours, as well as in the maritime supply chain. Our corporate team has extensive experience helping businesses locally and internationally in relation to joint ventures, partnerships, mergers and acquisitions, business succession planning, structuring & demergers, and complex commercial contracts.
Design and manufacturing (including IP strategy & advice)
Overview
Green Freeport status in the two areas will bring with it improved conditions for manufacturing for the purposes of offshore wind and green chemical production. We have extensive experience acting for clients undertaking both domestic manufacturing in addition to offshore manufacturing and processing. Experience in this area extends to every stage of the manufacturing process, from initial development to production and subsequent supply to the market.
We have worked on some of the biggest public sector projects implemented over the last decade, in addition to advising clients on IP strategy and brand protection across different jurisdictions. We are one of only two Scottish law firms to retain a filing and prosecution practice in relation to trade mark rights, and the only one in Scotland to offer a holistic brand protection service. This puts us in a prime position to help businesses create, manufacture and protect their brand.
Commercial property, planning, construction and infrastructure
Overview
The approval of the Green Freeports will represent a significant contribution to the reindustrialisation of Scotland. From the moment the Scottish and UK Governments announced that two Green Freeports would be established, our team have been advising stakeholders on commercial strategy and the legalities relating to their interests. Previous introduction of Freeports has brought with it a surge in businesses seeking warehouse spacing in these areas, representing an opportunity for companies to avoid inflated rents and prices.
We have extensive experience advising ports and harbours. From major infrastructure projects, to the purchase and leasing of major harbours, our commercial property, construction and planning teams have provided market-leading advice to marine installation designers and individual contractors alike.
Employment
Overview
The creation of the Green Freeports is estimated to create tens of thousands of jobs. It is projected that this will provide substantial support to the port and harbours, and marine sector, helping to provide operations in the area with an increase in productivity and assisting businesses in curbing labour shortages. These jobs will not only extend to the marine sector, but also to areas such as hospitality, education, construction, retail and healthcare as a consequence of migration.
Our Employment team acts for a broad range of clients within the public, private and third sectors within Scotland and internationally. Working for some of the largest employers in the maritime supply chain, our employment lawyers are interdisciplinary, providing local and regional expertise to major projects within the marine economy.
Banking and finance
Overview
Our banking and finance team has acted for stakeholders at all stages of the supply chain, across the public and private sectors. This has included advising commercial lenders on financing of finance vessels; advising on the suitability of build contracts; advising on group security arrangements; and working closely with our corporate advisors on M&A and joint venture arrangements.