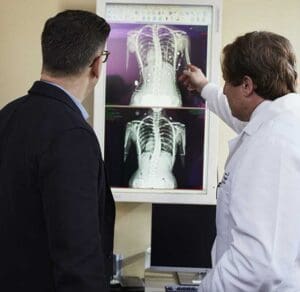 Medical negligence compensation claims
If you've been let down by a medical professional we'll fight your corner and seek compensation on your behalf.
Medical negligence solicitors in Scotland
Mistakes happen in the medical profession with serious consequences. GP's and doctors are busy and can miss things resulting in a delay in diagnosis or treatment.
It's not unusual for a wrong diagnosis to be made in hospital or for consent not to be obtained. Often the risks and alternative treatment options are not discussed. People can suffer pain or injury following an operation or procedure and we can help you by investigating whether a mistake has been made.
Claims can arise following errors by all types of medical professionals, including GP's, surgeons, hospital staff, dentists, opticians, paramedics, midwives & consultants.
Using our experience we will quickly get on top of the issues and our leading team will use their reputation to gain a tactical advantage in negotiations. We will strive to ensure that all individuals achieve justice. This includes the most vulnerable people in society. We aim to always put your mind at rest and fight on your behalf to maximise the compensation recovered.
Request a free consultation
If you or a family member have suffered due to a mistake by a medical professional call our team on 0800 904 7777 or simply complete our online form.
Common questions about medical negligence
When can I make a claim?
Answer
As soon as you realise something has gone wrong or suspect substandard medical treatment. The sooner the better as investigations will be required. The claim normally must be brought within 3 years of the negligent act or advice although a claim can still be considered if you only became aware of the problem at a later date.
How will I receive compensation?
Answer
Come to us and we will investigate the claim using independent experts who will offer unbiased opinions about the treatment provided.  After the claim is intimated to the medical practitioner it will become clear whether negligence is admitted. If it is a good claim it must then be valued by assessing the loss suffered as a result of the negligence.
How do I make a complaint to the NHS?
Overview
If you have not done so already, you can by visiting the NHS inform website where you will find details on how to raise a complaint in your area. Once you have the filed your complaint to the NHS please save an electronic version of your complaint and upload it to us using the form below which will help us to speed up the process of your claim.
Testimonials
"I personally want to say thank you for all your work and for your sensitivity, empathy and understanding of our situation… you have made an extremely difficult journey more bearable for both of us."
"Well versed in such work is senior associate Amy Dickson, an 'experienced litigator' who is 'hardworking and a pleasure to work with.'"
"Deals primarily with actions arising from wrongful life and stillborn births, foetal abnormalities, catastrophic injuries to children, A&E failures, misdiagnoses and failure to diagnose, as well as general surgery claims."