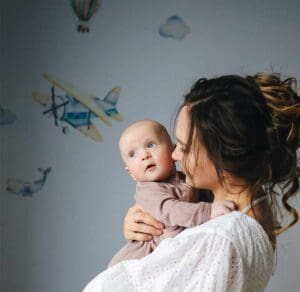 Adoption lawyers
We are experienced in assisting step-parents, other family members and kinship carers formalise their private adoptions or secure alternative Orders such as those for Residence or Parental Rights and Responsibilities.
Legal advice on adoption in Scotland
Adoption is the legal process by which an Order of the Court creates a new parent-child relationship, and confers parental rights and responsibilities on the adopter. The new relationship effectively replaces the relationship which previously existed in law between the child and their natural parent or parents.
For people looking to adopt, the legal procedure required to formalise an adoption can appear daunting and complex. But with the right lawyer to guide you through this process, it doesn't have to be.
With Lynsey Brown, our Adoption Lawyer, and our specialist family team working on a range of family matters, we recognise through experience that all matters are different. We are problem solvers on hand to assist and guide you through the legal process to reach your end goal, by putting your needs at the heart of everything we do to deliver a stress-free as possible experience.
Common questions about adoption
Can I adopt a child in Scotland?
Answer
In order to be eligible to apply for an adoption Order in Scotland, you must meet certain criteria at the outset. You should take advice from a lawyer experienced in adoption cases to discuss your eligibility in detail, however, the criteria include:
You must be aged 21 or over. There is no upper age limit, however, the Court will give some consideration to the difference in age between you and the child.
You can adopt as one person, or as a couple.
If you are applying to adopt a step-child, you must be married to, in a civil partnership with, or living in an 'enduring family relationship' with the natural mother or father of the child. Whether a couple is considered as living in an 'enduring family relationship' will depend on the circumstances of each case, and there is no set period of time you must have been a couple for, but generally you will require to show that you have a stable and lasting relationship The mother or father must be at least 18 years old and have parental rights and responsibilities in respect of the child.
If you are adopting a step-child, both you and your partner or spouse must be domiciled in Scotland or have lived in Scotland for at least one year.
If you are applying to adopt as a couple, one of you must be domiciled in Scotland, or both of you must have lived in Scotland for at least one year.
There is no statutory requirement that you be of good health, and ill health would not of itself preclude the granting of the Order. The Court would, however, give consideration to any health issues which could affect your ability to look after the child.
You may still adopt if you have previous criminal convictions, however again these issues would be considered by the Court and each case will depend on its own circumstances. If, however, you have been convicted of an offence involving children, it is unlikely that your application would be successful. Indeed, if you are adopting through an adoption agency, the agency will not consider you suitable to be an adoptive parent if you have been convicted of specified offences.
What is the process of adoption?
Answer
The path to having a step-parent, or private, adoption granted can have some twists and turns along the way, however, the process is generally as follows:
The local authority is notified of your intention to adopt the child
A social worker is assigned to your case. He or she will carry out home visits and then produce a report on the suitability of the adoption and any other matters relevant to your application.
A Petition for adoption is lodged at Court along with the social work Report and other relevant documentation.
A Preliminary Hearing is fixed between six and eight weeks after the lodging of the Petition.
A copy of the Petition is sent to the natural parents of the child, if appropriate, and any other person the Court considers as entitled to see a copy. The natural parents have 21 days to tell the court if they wish to oppose the adoption application.
A Curator/Reporting Officer is appointed by the Court to obtain any required consents to the adoption and provide another report on the application.
If the application is opposed, the Court will order the opposing party to lodge answers, and a timetable regulating the court process will be fixed. The timetable will culminate in an evidential hearing on the adoption.
If there is no opposition to the application, the Court may grant the adoption Order at the Preliminary Hearing.
How long does it take to adopt?
Answer
This depends on your route to adoption. For non-agency adoptions, i.e. step-parent adoptions or other family based adoptions, the process can be complete within a few months. The first step is to notify the local authority of your intention to adopt, and then they will carry out an assessment. After that, your solicitor can lodge a petition at court, and a first hearing will be assigned for 6-8 weeks later. In many unopposed cases, the adoption order is granted at that hearing. If, however, the birth parents oppose, the process will take longer and there will be further hearings at court.
For agency adoptions, where children have been placed for adoption by the local authority or other adoption agency, a home study will be carried out which typically takes a few months. A child can be placed with you as little as three months later, although it could take up to a year. After that, the court process will follow.
You can find out more about agency adoptions locally depending on where in Scotland you live. In Edinburgh, for example, the local authority has a dedicated website which includes a step-by-step guide to adopting a child.
How much does adoption cost?
Answer
It depends on your particular circumstances, however in some cases we can offer a fixed-fee package and in other cases the local authority may assist with your costs. Sometimes the cost will relate to the amount of time spent on your case and you also may have to budget for outlays such as court costs or payments to experts. We would have a discussion with you about fees and potential extra costs at the outset of your case.
In certain cases, we may be able to offer a fixed fee package and can discuss this with you in more detail at first consultation.
Who needs to consent to an adoption?
Answer
Any party who has parental rights and responsibilities (usually the child's natural parents)
The child, if he or she is aged 12 or over
A natural parent's consent, if not forthcoming, may be dispensed with by the Court if that parent is dead, cannot be found, is mentally incapable of giving consent, is unable to satisfactorily discharge their parental responsibilities or exercise their parental rights and is likely to continue to be unable to do so, or if the welfare of the child otherwise requires it to be dispensed with.
If the child is under 12 years old, their formal consent is not required, however, the social worker and the Curator must ascertain the child's wishes and views regarding the proposed adoption as far as possible.
Can I adopt my stepchild if they're over 18?
Overview
No. As the law currently stands, a person over the age of 18 cannot be adopted. The petition to adopt must be lodged in court before the child's 18th birthday.
Testimonials
"A very professional and proficient service was given by the team. All avenues of my case were covered with complete control and organisation. All relevant information was relayed back to me very quickly and the court hearing itself lasted minutes due to the hard work and endeavour given by Lynsey Brown, my family lawyer. I would highly recommend this organisation."
"Lynsey Brown and team have been unbelievably supportive and helpful during my adoption case. I would definitely recommend her to anyone looking for legal help."
"We found Lynsey to be extremely helpful, very knowledgeable and professional at all times and a pleasure to deal with."
Get in touch
Call us for free on 0141 227 9545 or complete our online form below to submit your enquiry or arrange a call back.