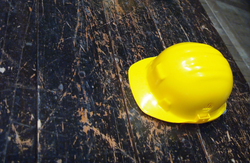 New Scottish fire safety measures to be introduced post-Grenfell
Two years on from the Grenfell Tower tragedy, the implications for the construction and fire safety of high-rise domestic buildings are still under review. New legislation is anticipated this year to introduce measures to strengthen fire safety in Scotland's high rise homes and public buildings, including the introduction of more stringent construction requirements and enhanced safety information records.
Review of building and fire safety regulations
In the immediate aftermath of the Grenfell disaster, the Scottish Government established a Ministerial Working Group to oversee a review of building and fire safety regulatory frameworks in Scotland. The review identified key recommendations in a report produced in December 2018 and the Scottish Government is now conducting a consultation on proposals to implement the first five of those recommendations to improve fire safety for people living in high rise domestic buildings.
What caused the Grenfell fire?
The origin of the Grenfell fire was found to be a malfunctioning fridge-freezer in a 4th floor flat. In theory, the building was designed to operate under a "stay put policy" in the event of a fire, meaning that internal fire stopping – thick walls and fire doors – should have contained the fire for long enough for it to be controlled without the need to evacuate the building. Tragically this theory was not borne out in practice and the fire spread rapidly throughout the multi-storey building. A public inquiry into the circumstances and causes of the disaster is still ongoing but it is widely understood that the type of external wall cladding fitted to the Tower during renovations contributed to the rapid spread of fire.
Cladding in Scotland's high rise buildings
Grenfell Tower's cladding system comprised Aluminium Composite Material (ACM) and a combustible type of insulation, a combination of materials that was not recommended for use on high rise buildings. ACM-based cladding systems have not been permitted for use in Scotland since May 2005 following building regulations coming into force dealing with this matter. Cladding and insulation on new or refurbished high rise domestic buildings in Scotland must either be made of non-combustible materials, or the whole cladding system must pass a stringent fire test.
As part of its review of fire safety, the Ministerial Working Group examined whether any of Scotland's high-rise domestic buildings were completely clad with ACM. Local authority investigations confirmed that there are no local authority or housing association high rise domestic properties in Scotland with extensive ACM cladding. One private high rise property development was, however, found to have extensive ACM cladding. Interim mitigation measures are now in place for that development and the cladding is scheduled to be replaced with a non-combustible cladding system at the building owner's expense.
Changes to fire safety measures
To implement the recommendations of the Fire and Safety Review and the associated Enforcement and Compliance Review, the Scottish Government is expected to amend existing building regulations to introduce new statutory fire safety measures in 2019. The proposed changes include:
Enforcing the use of non-combustible cladding on all tall buildings, hospitals, care homes and entertainment venues;
Mandatory installation of sprinklers in flats and larger multiple-occupancy dwellings;
Improved evacuation measures for new high-rise buildings, including sound alerts and escape stairs;
New compliance plans for high risk buildings;
A database of safety critical information for all high rise residential buildings; and
New fire safety guidance for residents of high rise buildings.
What effect will this have on existing and new high rise properties?
The proposed changes mean that all affected buildings will need to be inspected and some older buildings may potentially require to be retro-fitted with enhanced fire safety measures to ensure they are compliant with the new rules. For example, existing buildings may need to be fitted with sprinklers, sound alert systems and/or improved escape stairways. These fire safety enhancements will have an associated financial cost for property owners and/or tenants, depending on the terms of their legal arrangements.
Expansion of the type of properties to which the non-combustible cladding rules apply may also mean the removal and replacement of non-compliant cladding on some non-domestic or lower rise buildings in Scotland. Again, there will be a cost to carrying out such works.
Publication of a draft bill to introduce the new fire safety measures is expected within this calendar year. Its terms will be of interest to multiple stakeholders: residents of high rise properties, property owners and developers (including local authorities and housing associations). Those who will be responsible for promoting and monitoring compliance with the new rules, for example, building control and the Scottish Fire and Rescue Service, will also need to familiarise themselves with the terms of the draft bill.
Private property developers, designers and contractors involved in the construction of new properties that fall within the scope of the new legislation will also need to take account of the forthcoming changes, preferably at an early stage in the design process, to ensure that all relevant obligations are met in the design and implementation of the construction works.
Get in touch
Harper Macleod's Real Estate, Construction and Engineering teams assist developers, contractors, consultants and funders in all manner of construction and engineering projects. The team also assists the end users of such projects, such as tenants, landlords and factors. Their breadth of work covers both the advisory and procurement elements of such projects, together with management and resolution of disputes that can sometimes arise.
Glasgow
Edinburgh
Inverness
Elgin
Thurso
Shetland
Get in touch
Call us for free on 0330 912 0294 or complete our online form below for legal advice or to arrange a call back.