Accident at Work Claims Solicitors
Get the help & results you deserve
Quick effective services with over 25 specialists
Securing over £20m for our clients in the last 18 months
9/10 customers would recommend & use us again
No-one chooses to be involved in an accident at work but you can choose your law firm. If you have had an accident you may be able to make a claim against your employer.
Duty of care owed to you
Your employer has a duty to take reasonable care of your health and safety during your working hours, this includes working in areas out with their premises.
Your employer is also responsible for the acts or failures of your fellow employees during the course of their employment, should that result in an accident in the workplace. 
If your employer has breached any of their duties, and as a result you were injured, then you may have a claim.
Being injured, or having accident at work, can have a serious impact on those involved and their families.
How to claim for an Accident at Work?
Our specialist accident at work lawyers will intimate the details of your claim as quickly as possible after the accident has happened. The details of the accident and injury will be sent to the party who is at fault and/or their insurance company.
Some insurers will often to try settle your injury claim directly with you and this can mean that you can receive less compensation than you should. If we represent you we will advise you appropriately should this happen.
We will ingather details of your losses, any documents that we need to prove your case and will contact witnesses as soon as possible.
How long do I have to claim after the accident?
The time limit for settling a case is usually three years after the accident. However, in terms of the compulsory Scottish pre-action protocol your claim should be intimated as soon as possible.
No Win No Fee
We will handle your case at no cost to you - we will not deduct any percentage from your compensation pay out. Our experience has led to:
Helping thousands of people like you
Helping with Rehabilitation with specialist contacts
Securing over £20m for our clients in the last 18 months
9 out of 10 customers would use us again and recommend us to friends & family based on client feedback
What can be included in my Claim?
We can claim compensation for any injury you suffer including, fractures, scarring, tinnitus and psychological trauma. You may also be able to claim for general out of pocket expenses, loss of earnings, care and assistance required and various other expenses.
When can I make a compensation claim?
If the accident was in the last three years
If someone else was at fault
If you have suffered injury and/or been off work as a result of the accident
If you are out of pocket for miscellaneous expenses 
Why use Harper Macleod for your claim?
We are personal injury experts and have one of the largest personal injury departments in Scotland with over 25 personal injury specialists covering the whole of Scotland and we offer a no win no fee. 
Get in touch with our Specialist Team
We provide a free initial consultation and you can contact us by filling out the claims form below with details of your accident/injury or:
Why choose us for your accident at work claim
You keep 100% compensation
Unlike our most other law firms if you use us for your personal injury claim you keep 100% compensation. This means if you are awarded £5,000 compensation, you receive £5,000.
We recover our fees from the other side and we offer a no cost to you service.
Our commitment to you
Our clients are at the heart of everything we do and we will go the extra mile to secure justice and fairness for those we represent.
We will go further and work harder to ensure you get the best possible service and outcome.
Our clients have scored us 10 out of 10 for client satisfaction.  
9 out of 10 customers would use us again and recommend us to friends & family.
We will take care of you 
Our clients are at the heart of everything we do and we will go the extra mile to secure justice and fairness for those we represent.
We can access expert support services, medical care and help for you.
We have a Personal Injury compensation calculator to let you know how much you could be awarded for damages based on your injury.
We are experts in Personal Injury claims
Our extensive specialist Personal Injury team can handle all types of personal injury claims.
We're also a full service Scottish law firm for life and are happy to provide advice and support for all your legal needs.
We're specialists you can trust
We are accredited by the Association of Personal Injury Lawyers and the Law Society of Scotland's Personal Injury Accreditation Scheme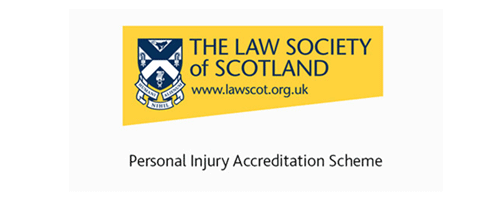 Common accident at work questions
What types of accidents can my employer be at fault for?
Some common examples of when your Employer could be at fault include:
Was the machinery in a sufficient working order?
Were you supplied with the correct tools to carry out the task?
Did your injury occur due to you not having received training for the task you were involved in?
Did you require specific clothing for the task? If so, were you provided with them? Some examples of clothing required include goggles, gloves, boots, and ear protectors.
Did you trip due to the state of the flooring on a walkway?
Were you provided with equipment when working at height?
Was a risk assessment carried out for the task you were involved in?
Did your task require more than one person? If so, were you provided help from a fellow employee?
Did your employer keep manual handling to a minimum?
Can my employment be terminated due to my claim?
A common question is whether you can be made redundant due to your claim. Your claim for injury cannot be used as the reason for your redundancy.
If you are of the opinion that you have been made redundant due to your claim we can put you in touch with someone from our employment team to give you advice.
To find out more and to discuss your circumstances call us free on 0800 904 7777 to discuss your claim or fill out the form below and someone will be in contact with you soon.
What should I do if I have an accident at work?
If you are injured at work, you should always report your accident to your supervisor/manager. Also you should make sure the Accident Book is completed. This will ensure that your accident is recorded correctly and will avoid your Employer denying knowledge of any accident. It is also recommended that if anyone witnesses your accident you obtain their details in case they require to give a statement about the circumstances of your accident. If you are able to take a photograph of the cause of your accident this can be helpful. If any changes are implemented in your place of work following your accident, which would have prevented the accident, you should keep a note of these. For example machinery being fixed, or correct tools being provided.
Following your accident, if you think it may be your employer's fault Harper Macleod can give you legal advice. If we feel as your solicitor you have a claim then we will take on your claim and intimate it on your Employer. We will also explain the full process to you.